With Cloud Based Mobile Testing Tools You Don't Ever Have to Stop Testing
Mobile applications are being released faster than ever. If your application doesn't have the cutting-edge functionality of your competitor, a user can delete your app and download his. Only the best cloud based mobile testing tools give you the ability to deploy the latest version of your application quickly and flawlessly.
---
Get Updates on User Quality at our  LinkedIn  Page
---
Testing, by nature, is the slowest part of the mobile application development cycle. You can shorten the process by cutting some corners, but things will get missed, and the errors may be found by your users. The ideal testing strategy is to test efficiently – testing both quickly and thoroughly. Utilizing cloud based mobile testing tools to test continually is the best way to testing success.
Cloud Based Mobile Testing Tools Are the Answer
An on-premise cloud based mobile device lab gives you security by operating safely within the company firewall. It gives you flexibility, allowing testers in any company office to access a wide variety of devices with different operating systems and versions. You can test over local networks anywhere in the world. Most of all it gives you efficiency – the opportunity to assign projects to testers in offices over enough times zones to set up a 24 hour a day testing operation.
Experitest's SeeTest Cloud Offers all of These Solutions
Here's how SeeTest Cloud works:
You can connect up to 15 devices to each device host machine. The machine is connected to a server which serves as your cloud environment. You can attach as many machines as you like to the server. In this example, five machines are hooked up to the server with five devices connected to each machine, totaling 25 devices at 5 host machine locations. From their desktops at anywhere in the world, your testing team can remotely connect to any or all of these 25 devices. A tester can test your application on a Samsung with an Android operating system over a network in Sweden, a WindowsPhone in Indonesia, and an iPhone 5 with the iOS 8 operating system working on a network in Miami all at once.

Download SeeTest Cloud to your server and device host machines. SeeTest cloud is a software only solution so you don't need to reconfigure your hardware, install anything new, or set up an appointment for someone to come and install it for you. The process is simple and quick.

Users from anywhere are given a list of all the devices in the cloud, any of which they can use immediately, or if they are in use by another tester, make a reservation for later use.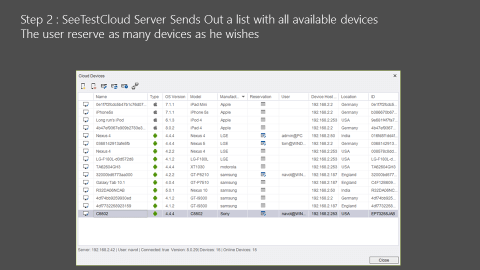 At their desk, a tester can install SeeTest Manual, a free tool, or SeeTest Automation and start testing. The first step is to decide which set of devices he wants to test on. You can physically connect devices to your desktop and use them, use any of the 25 devices connected to the on-premise mobile device lab, or create a combination of both. You can select any of the devices available on the cloud to see if someone else is working on them. If the device is unavailable you can reserve it at a later time. A quality assurance (QA) manager can assign specific devices to individual testers at certain times based on the priority of the projects.
Reap Real Benefits With SeeTestCloud Bsed Mobile Testing Tools
A device manager can also organize projects by assigning 8 hours of devices to his North American team, the next 8 hours to his Indian team, and the next 8 hours to his testers in China. He can run a project consistently 24 hours a day until it is completed. Even if the pace of the testing is limited to ensure thoroughness of the quality of the app, without any downtime at all the project will be completed sooner and the application will be deployed to market faster.
The right cloud based mobile testing tools also save money. You don't have to buy the same device multiple times for every testing team. Only one person physically handles the devices so they rarely get lost or broken. Testers know exactly which device they worked on so they don't have to waste time turning on and off devices trying to find the right one. Devices are always connected to a computer so they are always powered up. A tester doesn't wait for the phone to enough battery power to perform the test. With the best cloud based mobile testing tools, you really achieve nonstop testing.
Take a free trial of our Mobile Application Testing Tools: SeeTestAutomation | SeeTestManual | Enterprise Appium by Experitest | Mobile Add-On for UFT | SeeTestCloud Online | SeeTestCloud Onsite | SeeTest Network Virtualization | Mobile Add-On for Load Runner
Follow our Mobile App Testing page on Twitter!